YOUR CHILD AND SELF IMAGE
There is a new word out these days. You might have heard it. I know I have. It has really got me thinking and looking back in retrospect.
It is the message of Authenticity.  The message of being real, first with yourself and making sure people around you know who you are after you have come to love and accept yourself.
My friend, Oby Bamidele, who is an authenticity coach, and I spoke for over two hours about being ourselves and how so many things in our pasts held us back from coming to be who we REALLY are; The women God created us to be. That conversation set something up within me. She was worried about her hair, I have been too. You know that feeling of being unpresentable because of something you don't really dig about yourself? Yeah! That one you're thinking about right now!
You know this got me thinking about how far I have come on the journey to self-discovery and the detours, hold-ups, and stops along the way. Most of all, it got me thinking about how this journey began as a child and how one thing added on top of another influenced my opinion of myself.
The world is full of people today walking around with inaccurate images of themselves. This journey of self-discovery is a journey that we are all on and like I said it began as a child for everyone. It is cumulative of what people have said or done to you among other things.  The words mostly.
For example, if, as a child, you grew up being ashamed of your looks, you most probably did all you could to hide and mask it. But guess what? Time passed and you have suddenly become an adult but most likely that image of yourself has not changed.
So, my post to you today is about helping your child develop and have the right image of themselves. There are so many things written about building your self-image or self-esteem. But the first place to find out who you are is from God. The one who made you. Every one of us reflects him and God, is beautiful, kind, amazing, good, faithful and strong. The list is endless.
You, dear Parent, are your child's first authenticity coach. You model authenticity to your child by what you say and do to yourself as well as what you say and do to them. Teach your children to be comfortable with whom God has made them. There are so many things that fall out of a child's disfigured or twisted view of his or herself. They include the loss of identity and the tendency to fall prey to peer pressure and the one that makes me cringe the most – an addiction to seeking acceptance.
As a man thinks in his heart so is he….
Joseph was a child who had a good image of himself. The bible does not tell us how much his parents did or said to him but we know his father loved him and gave him a coat of many colours. Joseph's image of himself helped him imagine himself as an important person whom people would bow down to. It was one thing for him to dream, it was another thing for Joseph to live that dream in his mind till it became reality. His self Image helped him all those years while he was held as a slave in Egypt until his dream was played out before his eyes.
Today, please watch yourself and watch your influence over your child. Teach your child and help him or her to become the best of themselves. Not the best version of themselves. A version is not completely authentic, a version is not full or whole, a version is taken out of the real thing.  The dictionary meaning of version is a particular form of something differing in certain respects from an earlier form or other forms of the same type of thing.  Train and help your child to be authentic. However, please watch out for training a child to be proud and disrespectful.
Train and help your child to be authentic. However, please watch out for training a child to be proud and disrespectful.
You can start by helping them with words of affirmation and positive confessions drawn from the word of God.
Every day I get my children to say these few lines of affirmation in addition to their confessions.
I am bold
I am confident
I am kind
I am loving
I am beautiful
I am intelligent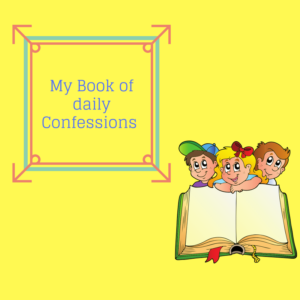 I am worth it
God loves me
And I love myself.
To this effect, I have written a book of simple confessions for Children to read and say by themselves. It will be their own special book. It is going to print soon and I wanted to know if you would love a copy.
ARCHERS CRIB
Have you thought about joining Archer's Crib? Some parents have said that they want to know how to raise Godly children. This is one of the core objectives of arrowsnarchers and Archers Crib, the inner circle of parents within arrowsnarchers. A few points to help you decide:
Archers Crib provides a safe and comfortable environment where parents determined to be purposeful in their parenting, come together to share, support and challenge one another to do something positive and deliberate regularly as parents. Studies show that this kind of environment is collaborative and beneficial as members learn insights and contributions from one another. It would also provide room for positive musings and expression of thoughts.

Archers Crib also provides room for parents to share concerns and pain points in any area of parenting.

Archers Crib is definitely for parents who do will not settle for average but will reach for excellence and the best in their parenting. This will, in turn, be seen in their children. The quality of our parenting goes a long way in determining what our children become.

Archers Crib is home to parents who believe that their children will excel in life but do not despise the journey and the process of helping them become successful in their lives and are willing to follow this process through.

Archers Crib is a value adding Forum. Every parent within this circle adds value to one another. The information shared within the crib will not be common knowledge.
CLICK HERE TO JOIN AND FIND OUT MORE
I hope this post has blessed you, please leave a comment if it has.
Much Love,
Joy.
Photo credits- House of Sarah Rachel
Photo credit- soul seeds